I had just bought this last April 25 at MAS. I was gonna get a nice KSC M11A1 mini Uzi, but I was too late. The last of the stocks were sold, so, I decided to get a different gun. The Bell EG720 got my attention, so, after a bit of checking out the gun, I had bought one, along with a new can of 134a (I also own a Maruzen Walther PPK/s, which was out of gas already), a spare magazine for the 1911, a bag of bbs and a bb loader.
The Gun
So, this is what came out of the plastic hardcase that came with the gun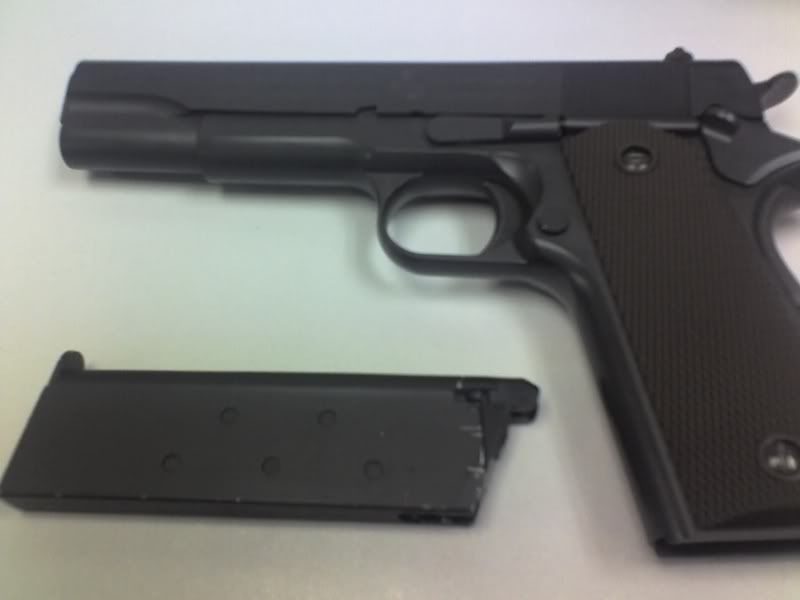 Its detailed pretty nicely, with authentic markings on either side of the slide. No where on the gun can you find anything that said Bell. The EG707 Beretta had the Bell marking found on the pistol grip. But this one really didn't have any Bell markings.
Sorry, had to use my cellphone to take pics, but on this side, it has a serial number of the gun...while on the other side...
...it has the manufacturing markings stamped. This makes this replica very well made.
As with any gun I have (with the exception of my shotgun), I love to field strip and see the working parts. So I did, and here's what I got...
Grip and trigger assembly. Nothing fancy, it just works.
Slide, plastic.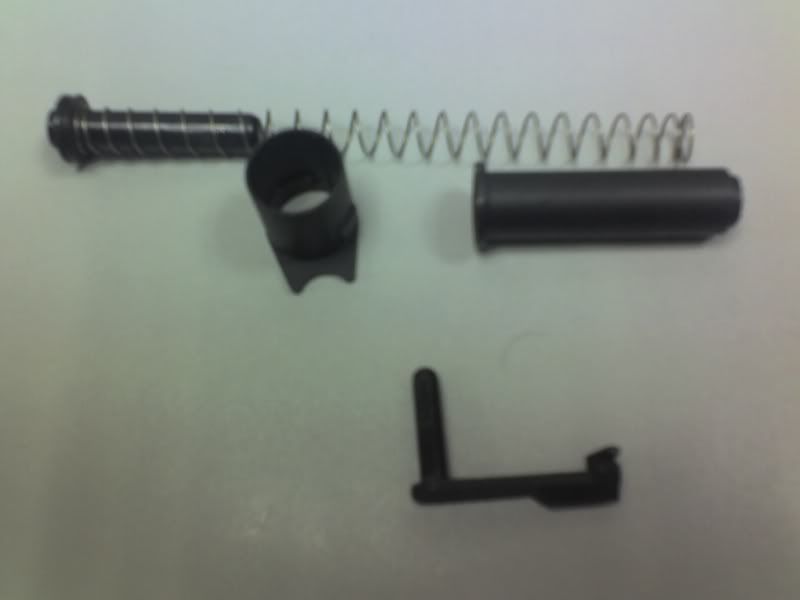 Some of the parts, including the spring.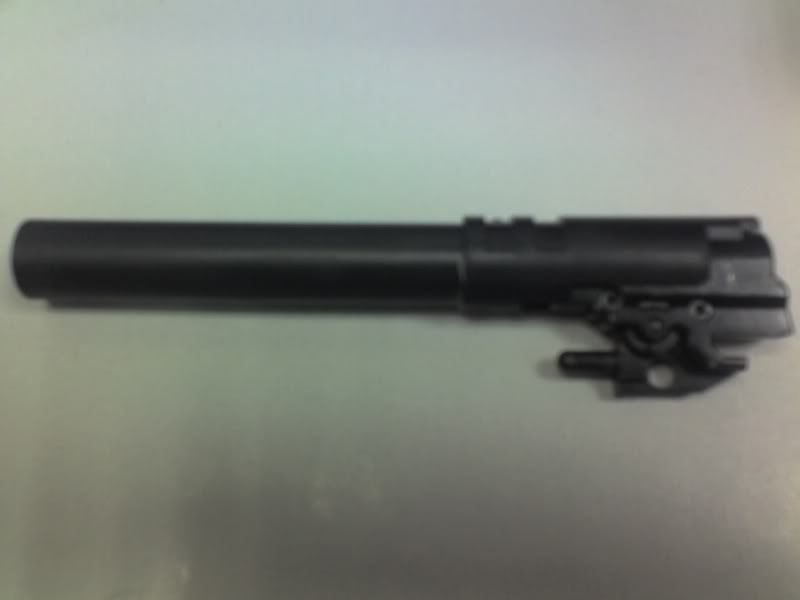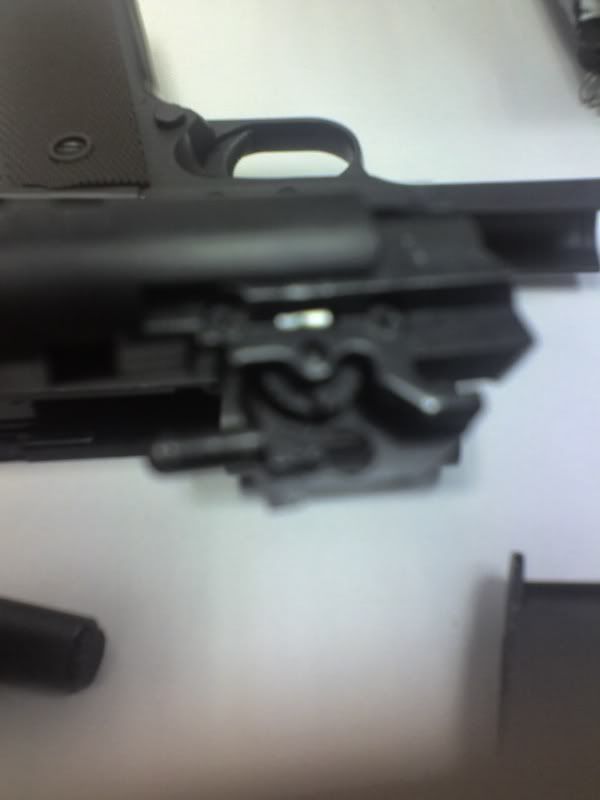 Barrel and hop-up assembly. And yes, the hop-up does work. On its zero setting, its quite accurate, but when my brother had me adjust it, I lost my aim, so I had to put it back to zero.
From what I had been hearing, this particular model is practically a clone of the Tokyo Marui Colt 1911A1 gas blowback, where its parts can be interchanged. I have yet to meet someone with such a gun to verify this.
For its FPS, I had it chronoed at 252fps using 0.2g bbs and 134a gas. The kick on this gun when you fire is amazing! It really feels so real when fired. One problem is that you can just fire rapidly with this gun. The magazine tends to freeze, so you need to cool it down first. Speaking of the magazine, it does carry 25 rounds in a double stack configuration. Its nice that I bought a spare. 50 rounds of pistol bbs can do a world of hurt in a CQB scenario. As for the range, the bbs seem to be flying at almost the same distance as my G36C rifle, which gives it a pretty nice reach.
The gun sights aren't any use. Its too low and it has no markings for use at night. Gripping this gun is pretty nice though, as if it was made for my hand. The slide does slide back slower than when pulled. Not sure how to remedy that. Otherwise, its a good gun to own.
Field Test Review:
After doing field testing this gun in a CQB environment, I found this gun to be quite reliable, though not much on the rapid fire side. The ballistics of this gun really does resemble a .45 caliber. The .45 round is subsonic, fairly slow in some sense, and this gun practically simulated that too. The most you can rapid fire is 3-4 rounds, then allow the magazine to warm up again. But then, the round's tendency is to fly a bit left or a bit right, so you really do need to make adjustments in your aim.
In conclusion:
I've already completed my field review of this pistol (my gas can ran out), and the only quirk I found is that you really have to check the magazines if there is a leak. I suggest getting TM magazines (found they are compatible) with this. Otherwise, this is a great pistol to have. One of the few GBBs to ever come out of the ACM market, and it has proven its worth. Currently, my pistol has already nipped several kills to its credit, in mid to close range engagements.
For those planning to buy, go ahead. Its really something to have, or you can just be a bit patient and wait for the follow-on metal version, the EG723 metal slide M1911. But if you just want to play without harming your targets, get this instead.
- End Review -